The Team With Momentum.
Racing Into The Xfinity Series!
Trust. Dedication. Hard work. Doing the right thing. No shortcuts. And winning the right way.
"

The NASCAR Xfinity Series and the Our Motorsports team are headed to Dover International Speedway on May 15th for the Drydene 200. Fans can catch the action on FS1, MRN/Sirius XM NASCAR, and other local radio affiliates at 1:30 pm and by following Our Motorsports on social media.

"
Brett Moffitt had a strong car, but a cut tire sent him into the wall and ended his night early leaving him with a 40th-place finish. Ty Dillon had a solid run as he scored a 15th-place result. Big thanks to Fr8Auctions and Hometown Lenders for their support of Our...
(Statesville, NC 9/13/21) – Fresh off of back-to-back races filling in for Brett Moffitt in the OurMotorsports No. 02 Chevrolet, Ty Dillon returns to the seat of the team's No. 23 for theupcoming Food City 300 at Bristol Motor Speedway. Joining Dillon for the...
Tyler Reddick started 28th in the Robert B Our Co. Chevrolet. Ty Dillon, who filled in for a sidelined-Brett Moffitt, started from the rear due to a driver change. Reddick scored a top-10 finish by placing seventh at the Lady in Black. Dillon crossed the finish line...
DAYTONA BEACH, Florida (August 28, 2021) - Our Motorsports teammates Brett Moffittand Blaine Perkins managed to avoid destruction at Daytona International Speedway to finish11th and 23rd, respectively, after the resumption of the Wawa 250 Saturday afternoon....
Official Our Motorsports Merch Shop
Want to represent the Our Motorsports team proudly while you watch us cross the finish line?  Click below to shop our Merch Shop today!
Upcoming Race
Drydene 200
Location:
Dover International Speedway
1131 N Dupont Hwy,
Dover, DE 19901
A love story that's 40 years old.
As far back as he can remember, Chris Our has always been fascinated by motor sports. Long before he was old enough to drive a car, Chris and his brother John would race dune buggies along the beaches of Cape Cod. The Our boys put their hobby on hold when it came time to raise their own families but now, years later, it's more than a hobby — it's a serious business. But even as Chris has led his team to higher levels of the sport, he approaches racing the same way he always has: with passion, respect, and an unwavering spirit of fun.
"This is the big stage. The real deal. The competition is stronger. Tighter. But we have a great team and we're close."

– Chris Our
According to Chris' team members, Our Motorsports feels more like a family than a business. Based in North Carolina, what the team lacks in size they more than make up for with heart. Racking up a string of top 10 finishes in the ARCA series over the past several years, Our Motorsports will be a full time competitor in the NASCAR Xfinity Series this year.
As a top finisher, Chris knows he can give potential sponsors the most financial impact for the least investment. He points with pride at his car, his equipment his drivers, his pit crew. Chris knows that the values he pours into Our Motorsports are shared with most brands around the nation. Trust. Dedication. Hard work. Doing the right thing. No short cuts. And winning the right way.
"If you don't have a love for racing, I don't want you on the team," Chris summed it up. Judging from his team, he doesn't have to worry.
Official Our Motorsports Racing Gear
Shop our gear to help represent your favorite team.  Click the button below to shop our store now!
Partner with Our Motorsports
Want to partner with Our Motorsports?  We're now accepting new sponsors. Click below for more details.
That feeling when it's race week in Vegas!

@BlainePerkins21 // @RacelineWheels https://t.co/ZVxHGNBVNq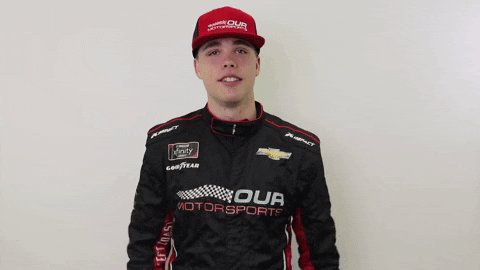 Our Motorsports would like to welcome product partner @BlasterProducts to the family!

Would you like to win a cap signed by OMS drivers @Brett_Moffitt and @tydillon? Tag a friend below and follow the B'laster Products page for your chance to win! https://t.co/RbMdoqNhZi